Our Mision
To help the world to become healthier by making clean eating convenient and enjoyable.

Our Vision
To be the fresh healthy meals resource in Central Illinois. By using only high quality and organic ingredients, we offer chef cooked meals at the comfort of your home or workplace as a convenient and delicious way to welcoming clean eating to your life.

Meet Our Founder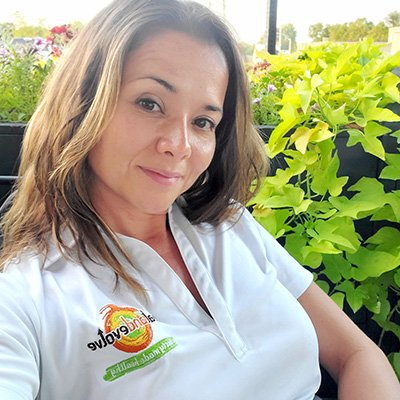 Gabriela Morin, is the founder and chef of EatandEvolve.
Born and raised in Venezuela, she has been a health enthusiast since her youth.
After finishing a B.S in Chemical Engineer in Venezuela, she earned degrees in Business Administration and Operation Management from Kettering University in Michigan before moving to Illinois in 2009.
For several years she joined the corporate world, but decided to follow her passion and became an entrepreneur in 2016.
Beyond healthy food, Gabriela is a firm believer of chemical-free living and natural medicines. Her young children are her inspiration and wants to provide them with a good base so they can make good choices for themselves.
Struggling to find where to eat out in the Peoria Area that would be healthy and tasty, Gabriela decide to change this by creating something that we did not have before.
We hope you enjoy as much as we do what EatandEvolve is all about.